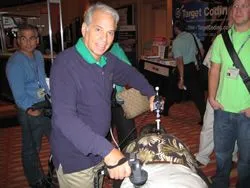 Why Dr. Creed Is Unique

Dr. Creed's own healing from a severe injury brings him an awareness and understanding with his patients and student doctors.

A severe automobile accident left Dr. Creed disabled. For eight years, 2 and a half years spent in a hospital. Dr. Creed wore a body brace, special shoes, and used a walking cane. Hospital stays on a regular basis, and numerous physicians could not relive the pain or improve Dr. Creed's condition. Frustrated by the sight of Dr. Creed's ongoing disability and pain, an army buddy, Mickey Leff, carried him into a chiropractic office rather than taking him to the hospital again. Two hours with the chiropractor, Dr. Creed was able to walk without using his cane or body brace. After many months of continuous treatments Dr. Creed realized that his destiny was to be a chiropractor and give others the gift of life he had received.
Chiropractic and various alternative health treatments have enabled him to run several marathons in Hawaii. In 1989, Dr. Creed rode his bicycle in the Soviet Union on a US-USSR Friendship Bicycle ride, and then continued on his own, bicycling through Europe and the Middle East.
For the past 40+ years, Dr. Creed has devoted himself entirely to the study and practice of Chiropractic. With a Doctorate of Chiropractic, two degrees in biology, and Certified in Acupuncture his focus is in Spinal Bio-mechanics, Neurophysiology, Environmental Health Management, and Biochemical Individuality. Dr. Creed has been presenting a seminar series throughout the United States on various chiropractic techniques using instruments. He also has lectured in Europe, former Soviet Union, and Central America. Dr. Creed is a post graduate professor and a visiting professor for the Scandinavian College of Chiropractic in Stockholm, Sweden.
Dr. Creed presently maintains a private practice in Miami, Florida and continues to provide doctor seminars to the professions.



Dr. Alan Creed has studied with:
| | |
| --- | --- |
| Dr. Vernon Pierce, D.C. - Structural RESULTS In HEALING | Dr. Clay Thompson, D.C. - Thompson Terminal |
| Dr. George Goodheart, D.C. - Applied Kinesiology | Dr. Robert Fulford, D.C. - Percussion Soft Tissue Reorganization |
| Dr. David S. Walther, D.C. - Applied Kinesiology | Dr. James Cox, D.C. - Flexion distraction disc repair |
| Dr. Don Harrison, D.C. - PhD., CBP, Chiropractic Biophysics | Dr. Bertram Fuchre, D.C. - Body Structural Correction |
| Dr. Victor Frank, D.C. - Total Body Modification (TBM) | Dr. Russell Erhardt, D.C. - X-Ray |
| Dr. Ted Carrick, D.C., PhD - Neurology Diplomat Program | Dr. Terry Yochum, D.C. - X-Ray |
| Dr. Daniel Murphy, D.C. - Neurology | Dr. Fred Barge, D.C. Scoliosis |
| Dr. Arlen Fuhr, D.C. - Activator Method | Dr. Walter Schmitt, D.C. - Nutrition |
| Dr. Major De Jarnette, D.C. - Sacral Occipital Technique | Dr. Herbert Ross, D.C. - Rejuvenation |
| Dr. Clarence Gonstead, D.C. - Adjusting Techniques | …and many others |
| Dr. Roy Sweat, D.C. - Atlas Orthogonol | |


Dr. Alan Creed was mentored by:

Dr. Vernon Pierce
Dr. Victor Frank
Dr. Roy Sweat


Techniques/Modalities: Advanced Education:

| | |
| --- | --- |
| Creed Neuro Kinetic Integration Technique | Fulford |
| Activator | Gonstead |
| Acupuncture | Hawaiian Healing |
| American Indian Healing Fulford Access | Light Energy Work |
| Applied Kinesiology | Logan Basic |
| Atlas Orthogonal | Merric System |
| Bio Chemical Nutrition | Neurology program at LACC |
| Cardiopulmonary Resuscitation Instructor | Neurophysiology |
| Chiropractic Biophysics | Pierce Spinal Analysis |
| Chiropractic Roentgenology | Spinal Bio-mechanics |
| Cox | SOT Blocks |
| Diversified | Spinal Trauma |
| Dr. Ted Carrick | Thompson Terminal Points |
| Electromagnetic Energy | Toftness |
| Environmental Health Management | Total Body Modification |
| Fulford | Whiplash |

Lecturing And Consulting:

Consultant to Chiropractic Doctors

Lectured throughout Europe on modern Chiropractic methods

Visiting Professor at the Scandinavian School of Chiropractic, Stockholm, Sweden

Adjunct professor at Texas Chiropractic College

Created and Presented a Seminar series on Designing and Achieving Goals in Your Personal and Professional Life, Miami, Florida.

Seminar Series:

"The Creed Neuro Kinetic Integration Technique"
"Boost Your Practice" bridging Techniques, Styles, and Technology" - 2 day seminars.

Manuals and DVD's based on seminars are also available


Publications

"FLYING THROUGH HEAVEN, WE BROUGHT SOMEONE BACK!"
Written by: Alan Creed, D.C.
Published February 2017 - THE AMERICAN CHIROPRACTOR
"A TECHNIQUE FOR A CHIROPRACTIC ADJUSTMENT"
Written by: Alan Creed, D.C.
Published December 2014 - THE AMERICAN CHIROPRACTOR
"INTERVIEW WITH DR. ALAN CREED"
Written by: Bill Koch, D.C.
Published October 2010 - THE AMERICAN CHIROPRACTOR
"NEW YORK GUARD CHIROPRACTORS ATTEND SEMINAR"
Published May/June 2004 - THE AMERICAN CHIROPRACTOR
"A CLOSE LOOK AT THE ADJUSTMENT, 10 GREAT TECHNIQUES, PART II"
Introduction by Alan Creed, D.C.
Published 9/24/02 - THE AMERICAN CHIROPRACTOR
"A CHIROPRACTOR'S TOOL KIT"
Written by: Alan Creed, D.C.
Published 9/23/02 - THE AMERICAN CHIROPRACTOR